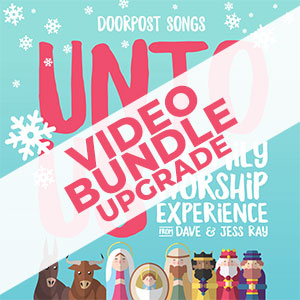 More from this Album:
Unto Us Video Set: Upgrade
Purchase this set if you already own the original Unto Us Video Set (purchased prior to 2020). If you do not own the pre-2020 Unto Us Video Set, consider purchasing Volume 1, Volume 2, or the Complete Unto Us Video Set. This set includes lyric video versions (Original Audio, Instrumental, Split Track) and hand motion demo and tutorial for 5 songs which were not a part of the original, pre-2020 set from the Unto Us Christmas album, a total of 25 videos. All videos are available for download in high quality, digital HD format. Also includes public performance license for public viewing in one location on your church or school campus.
Books and CDs for this Album
Buy individually or save up to 80% with bulk pricing!
Wrapper / visible menu size
Menu end offset
Resources
Print music, video sets, tracks, and more!
Wrapper / visible menu size
Menu end offset