Save up to 80% when you buy books and CDs in bulk! Click "More Info" to see available bundles.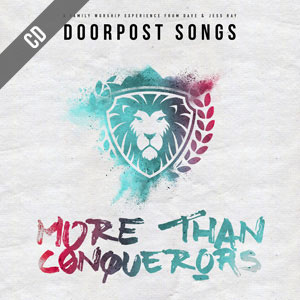 Doorpost Songs: More Than Conquerors
Continuing the acclaimed Doorpost Songs series, Doorpost Songs: More Than Conquerors contains 10 brand new Bible songs kids and parents will both love!
$11.99Add to cart
Free Easter Song Video
We're delighted to give you a FREE Easter song video! We can't wait for you to experience the power of the Gospel this Easter season, straight from the pages of Scripture. And during this challenging time as churches are unable to meet, we are offering a FREE temporary streaming license. Download the license here.
Request your FREE video below, and you'll receive a 100% discount promo code. Plus, we'll send you a welcome email with an additional exclusive offer.
Be sure to check out all of the great Easter resources in our Easter store like our Holy Week Family Worship Guide. (The first printing sold out, but we now have a second printing in stock!) For a limited time you can now purchase a digital Holy Week Family Worship Guide that can be emailed or made available on your church website.
---